Meet the minds behind the creative projects you love!
Miss Thrifty SLP
is the creator and manager of this site. She is in her second year as an M.S. CCC-SLP. She loves sharing ways to incorporate thrift store and yard sale finds into therapy sessions. It may result in a craft or just a new way to play a game.
The best part about being an SLP to Miss Thrifty is the never ending learning opportunities.
The Speech Umbrella is

a Speech-Language Pathologist with training in auditory-verbal therapy. Her passion is working with hearing impaired children and children with apraxia of speech. But, under the umbrella of speech pathology, you can find her working with children with a range of needs and goals.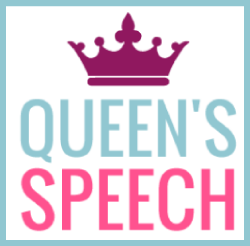 Queen's Speech
is in her fourth year as a school-based M.A., CCC- Speech-Language Pathologist. She especially enjoys working with preschool and lower elementary age students. However she also has experience working in a Traumatic Brain Injury-Cognitive Retraining Program, Skilled Nursing Facilities, and after school Sensory Training Approach to Reading and Spelling (Reading S.T.A.R.S). In her free time she enjoys crafting (crochet, embroidery, glitter, glue, paint, felt and paper) and bringing her crafty ideas into her therapy sessions.
Figuratively Speeching SLP
has been practicing for 18 years. She loves creating materials to keep therapy engaging and rigorous. She works with kids from birth through age 21, part time in a school setting, and part time as an independent contractor. Her two children keep her very busy, and are often guinea pigs for the activities, recipes, and projects she plans for her therapy sessions.
Straight Up Speech
is in her second year as a Speech-Language Pathologist and is currently working in an elementary school. She serves special needs preschoolers and K-5 students. She also works PRN for a pediatric outpatient rehabilitation clinic and as a part-time contractor for early intervention services. She previously worked in a pediatric outpatient rehabilitation center with children ages 2-18. She enjoys creating new therapy materials to fill in gaps in her current materials and loves to re-purpose traditional games by turning them into therapy games.